Atkinsons Accessories, Pleje og Parfum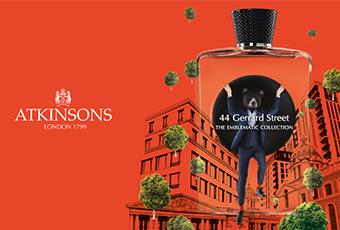 Mærket har udviklet sig på baggrund af den store tradition fra brødrene James og Edward Atkinsons, som fra 1799 arbejdede som parfumører i London, og som hurtigt blev kendte for deres bjørnefedt, som var parfumeret med rosenolie. J. og E. Atkinsons´ succes er traditionelt baseret på denne evige søgen efter dybe værdier. Hvert moment inden for kropspleje bliver ved hjælp af de velgørende naturlige ingredienser fra Orientens fjerne lande til et rituelt øjeblik med søgen efter et sandt velbefindende.
Vidste du at Indhold
 Atkinsons - den traditionelle virksomhed med bjørnelogo
I 1799 begav James Atkinsons fra det landlige Cumberland sig på vej til det livlige London. Han var i et usædvanligt selskab af en ægte bjørn. Desuden havde James Atkinsons opskrifter til dufte, toilet- og kosmetikartikler med i i sin oppakning. Atkinson skulle sammen med sin bror Edward snart blive de mest efterspurgte parfumører i det britiske kongerige og måske Europa. Den brummende ledsager viste sig at skulle blive en lykkebringer og senere mærkets maskot og dyr på deres logo. Atkinsons første salgssucces var en med rosenolie parfumeret hårpomade, fremstillet af bjørnefedt. Indtil i dag over 200 år senere står navnet Atkinson som ingen anden for britisk dandyisme og tidløs elegance.
Fra det britiske hof til resten af verdenen
I det 18. århundrede var Atkinsons det førende mærke internationalt. Gode dufte fra huset Atkinsons var meget efterspurgt i London. Både damer og herrer stod i lige lange køer foran forretningen i 44 Gerrard Street. Allerede i 1832 blev James Atkinson officiel hofparfumør og hans kreationer gik sejrsgang i adelens huse i hele Europa. Personer af høj rang som Napoleon, prins Tomasi di Lampedusa og den russiske zarina Alexandra Fjodorowna bruge den mesterlige duftebuket fra Atkinsons. Efterfølgende åbnede brødrenes butikker i hele verden. Indtil i dag er duftene fra Atikonsons uforlignelig luksuriøse. Og det er ingen overdrivelse at påstå, at man med Atkinsons, i det mindste rent olfaktorisk, påfører sig "the very essence of England".
Overblik over Atkinsons-kollektion
Dyk ned i Londons elegante livsførelse og oplev hele dufte-paletten i vores online parfumeri fra den traditionsrige virksomhed med bjørnelogoet. Vi tilbyder følgende kollektioner:
The Oud Collection
The Legendary Collection
The Emblematic Collection
The Contemporary Collection
Home Collection
The Grooming Collection
The Oud Collection - absolut royal
Med The Oud Collection fører Atkinsons veludviklede næse os til den ekstravagante livsførelse i 1920´erne. Disse to dufte til Queen og King forekommer prangende og alligevel elegante så du hver dag kan føle dig en lille smule royal. Basis for den elegante duft til kvinder Oud Save The Queen har essenser fra bergamot, nellike og grøn te. Jasminblomster og orangeblomster bringer på fin vis den feminine sarthed frem. Dybde og suverænitet får duften via eksotiske essenser fra tonkabønnen, guajaktræ og agartræ. Herreduften Oud Save The King er ikke mindre majestætisk. Orientalsk påvirkning af håndsorteret Earl Grey Tee forenes med friskheden fra bergamot. Varmen fra ædle træsorter indgår i forbindelse med nuancer fra læder og tilfører stilsikker duften den påskønnede maskulinitet.
The Emblematic Collection - til den moderne dandy
Atkinsons forener i The Emblematic Collection typiske britiske duftnuancer. Røgsmagende whisky-aroma tilføres lethed med de landlige essenser fra enebær og påvirkning fra blomsterdufte. Den excentriske duft afrundes med et strøg af English Breakfast Tee. Denne mandige konstellation til den moderne dandy omfatter både en eau de cologne spray til særlige øjeblikke i livet samt brusegel, luksussæber og bodylotion til hverdagen.
The Grooming Collection - luksus barberpleje
Den velplejede dandy har naturligvis skæg og et skæg skal plejes rigtigt. Til netop dette formål har Atkinsons udviklet The Grooming Collection. Det er luksus barberpleje, som rækker langt ud over aftershave.
The Legendary Collection & The Contemporary Collection - på tidsrejse
Tag på en stilfuld tidsrejse med disse to kollektioner fra Atkinsons. I Legendary Collection genopfindes traditionelle duftkreationer fra Atkinsons. Fra sanselig til røget og krydret - denne kollektion omfatter det samlede spektrum af olfaktoriske nuancer. Elegante dufte til kvinder og ekstravante dufte til herrer gør The Legendary Collection virkelig til legende.
The Contemporary Collection fremstår derimod afslappet, frisk og moderne, men ikke mindre britisk! Duften Posh on the Green til ham minder om skotske golfbaner og All England Club i Wimbledon. Denne herreduft sørger på sportslig og mandlig vis for en suveræn fremtoning. Duften til kvinder Rose in Wonderland er frugtig og krydret. En overraskende feminin duft til hende, som også ville have fortryllet Alice i Eventyrland.
Atkinsons hos Parfumdreams
Du finder dufte som falder i alle næsers smag hos Parfumdreams. Oplev desuden luksuriøse plejeprodukter og udsøgte duftlys i den elegante kollektion fra Atkinsons.