Bestseller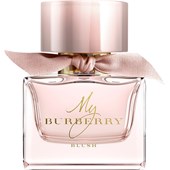 Dufte fra Burberry
Grundlagt i 1956 af Thomas Burberry bliver Burberry i dag styret af britisk designs principper og st…
Læs mere!
Burberry Dufte
Grundlagt i 1956 af Thomas Burberry bliver Burberry i dag styret af britisk designs principper og står som synonym for innovation og mesterlig håndværkskunst. Under ledelse af Chief Creative Officer og Chief Executive Officer Christopher Bailey har mærket udviklet en moderne æstetik og er alligevel tro mod sin enestående tradition.
Vidste du at Indhold
Burberry parfume fra Parfumdreams.de
Briten Thomas Burberry grundlagde i 1856 det i dag fortsat berømte brand Burberry, som med sine førsteklasses mærkeprodukter stadig begejstrer kunder i hele verden i dag. Elegante dufte til kvinder og eksklusive dufte til herrer er kendetegnet ved mærket Burberry. Derfor vil vi hos Parfumdreams heller ikke holde denne interessante duftkreation tilbage. Er du på udkig efter en duft til kvinder fra Burberry?
Så lad dig overbevise af følgende parfumer:
Body
Burberry Body Tender
Brit for Woman
Brit Rhythm Woman
Brit Sheer for Her
Burberry for Women
Burberry London for Women
My Burberry
The Beat for Women
Burberry Weekend for Women
Indenfor herre dufte kan vi tilbyde følgende kreationer:
Brit for Men
Brit Rhythm Men
Brit Splash for Him
Burberry for Men
London for Men
The Beat for Men
Touch for Men
Dette udvalg af forskellige duftnoter gør det muligt for dig at finde den perfekte Burberry duft.
Body Tender eau de toilette spray
En af de mest værdsatte Women Eau de Toilettes er Burberry Tender fra 2013. Den frugtfulde cypers-duftnote samt topnoten med malurt, citron, pære og æble vækker også begejstring ligesom hjertenoten af rose, sandeltræ, jasmin og te gør. Basisnoten spreder friske nuancer af kashmirtræ, moskus, vanilje og ambra. Denne Burberry parfume står for ungdom, håb og energi, hvilket du også vil kunne se på den moderne flakon.
"Brit Eau de Toilette for Women Burberry" indeholder elegante duftstoffer og fås i en flakon med et britisk look.
Duftnote: orientalsk topnote: Citron, ambrette hjertenote: Mandel, pæon basisnote: Vanille, tonkabønne.
Brit for Women fås desuden som "Rhythm Eau de Toilette" og "Sheer Eau de Toilette".
Burberry London for Men and Women til både mænd og kvinder fås som "London Eau de Toilette", som spreder en klassisk London duft. Den blomstrede dameduft har en topnote af mandarin, rose og kaprifolie, og lader nuancer af tiareblomst, jasmin og pæon ane i hjertenoten og basisnoten består af moskus, vanilje og patschouli. Med denne eau de toilette for en grundpris på under 130 EUR for 100 ml oplever du en frisk sommer feeling. Herreduften derimod overbeviser med en krydret, orientalsk duftnote samt en topnote af bergamot, lavendel, violer og peber. Hjertenoten består af læder og mimose og basisnoten lader aromaer ane fra tobakblade, egemos, guajaka og opoponax. Denne eau de toilette Men Burberry er en parfume, som kan bæres uden problemer af både elegante forretningsfolk og sportsfolk. Du har mulighed for at købe "Burberry Eau de Parfum Spray" enkeltvis eller som gavesæt så du også kan bruge det som gave.
Du finder desuden denne parfume i vores onlineshop:
I vores shop finder du ikke kun Burberry dufte som "Rhythm Floral", "Weekend Eau de Toilette", "Beat Eau de Toilette" eller den populære "Burberry Body", men også andre fascinerende dufte fra andre producenter. Du kan for eksempel sikre dig førsteklasses parfumer fra Paco Rabanne, Lancôme eller Biotherm. Lad dig overbevise allerede i dag af det store sortiment.