Time To Smooth Ansigtspleje fra Ahava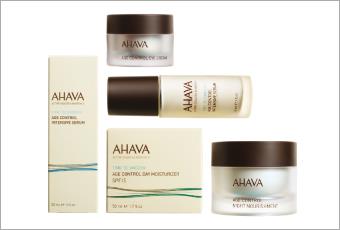 Time to Smooth: Kosmetik med krav fra Ahava
Plejeserien Time to Smooth forsinker hudens ældningsproces. Værdifulde virkestoffer fra det Døde Hav er primært ansvarlige for dette. Disse naturlige bestanddele skaber et klart hudbillede med intensiv fugtforsyning. Ansigtsplejen udglatter rynker og sørger for en ensartet teint. I Time to Smooth virker et kompleks ved navn Osmoter, som i koncentreret form udnytter den naturlige fylde fra det Døde Hav. Anvend ansigtsplejen dag og nat samt de supplerende plejeprodukter for at bevare dit gode udseende.
Ansigtspleje med et fantastisk resultat


Plejeprodukter, som understøtter hudens fugtighedsgrad, er et effektivt middel mod hudens ældning. Kosmetikken fra Ahava tilbyder dig her en værdifuld pleje til dag og nat. Samtidig kan du anvende en tonet dagcreme fra den samme serie. Til en intensiv hudforsyning tilbyder plejeserien dig en Anti-Aging øjencreme og en aktiv-serum til en intensiv anti-rynke effekt. I denne serum er også indeholdt retinol og det naturlige 3D-kompleks. Produkterne fremstilles uden dyreforsøg og Ahava garanterer, at leverandørerne ikke foretager dyreforsøg. Ahava er et registreret og anerkendt vegant firma hos PETA. Produkterne er uden animalske og dyrebeslægtede indholdsstoffer.