Time To Clear Ansigtspleje fra Ahava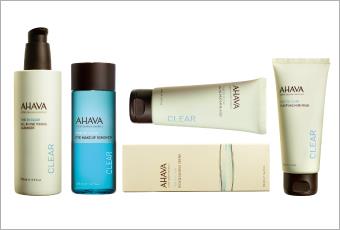 Time To Clear serien fra mærket Ahava har udvalgt sig et vigtigt mål med ansigtsplejen: at rense huden for skadelige stoffer dybt i porerne og effektivt. Serien er sammensat af forskellige produkter, som kan anvendes af både mænd og kvinder. Produkterne fjerner rester af kosmetik, sved, snavs, støv og talg fra huden, hvorved porer igen kan ånde frit og regenerere sig selvstændigt. Alle produkter egner sig særligt godt til hudtyper, som lider af uren hud eller hud, som tenderer til bumser.
Behandlet hud takket være værdifuld rensning
Rensning af ansigtshuden er elementær, hvis man virkelig vil opnå et konstant smukt og klart hudbillede. Ganske vist fjerner rent vand megen snavs og sved, men alligevel kan selv rent vand ikke trænge så dybt ind i porerne, at også genstridige rester af talg og snavs virkelig fjernes. Hudrenseprodukterne fra huset Ahava overtager netop denne opgave og sørger med produkterne i Time to Clear serien for en strålende smuk og sundt virkende hud - uanset alder. Produkterne fremstilles uden dyreforsøg og Ahava garanterer, at leverandørerne ikke foretager dyreforsøg. Ahava er et registreret og anerkendt vegant firma hos PETA. Produkterne er uden animalske og dyrebeslægtede indholdsstoffer.