Time To Energize Men fra Ahava
I årtier har mange kvinder kendt til effektiviteten af kosmetikken fra det Døde Hav. Med serien Tim…
Læs mere!
Time To Energize Men Pleje til ham fra Ahava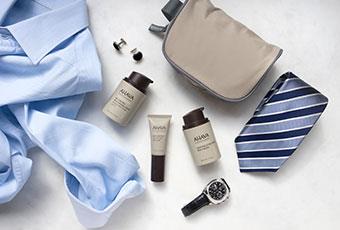 I årtier har mange kvinder kendt til effektiviteten af kosmetikken fra det Døde Hav. Med serien Time to Energize Men lader Ahava også det andet køn få del i de naturlige skatte fra det dybeste punkt på jorden. Derved forbliver navnet tro mod filosofien og satser i plejen til ham overvejende på virkningen fra de talrige mineraler, som findes i de righoldige og rene vandmiljøer.
Afgiftende, beroligende, plejende: Kosmetik til ham fra det Døde Hav


Ved produktserien Time to Energize Men kommer samtidig ekstrakter fra ginkgo og ginseng i spil. Ved anvendelse af plejen til ham fra Ahava afgiftes og stimuleres huden. Samtidig sørger kosmetikken for fugtighed og beroliger huden. I quintessensen glæder brugerne sig over en glat og vejplejet optik. Til porteføljen hører produkter som en barbercreme, en rensegel, en ansigtspleje og en brusegel. Produkterne fremstilles uden dyreforsøg og Ahava garanterer, at leverandørerne ikke foretager dyreforsøg. Ahava er et registreret og anerkendt vegant firma hos PETA. Produkterne er uden animalske og dyrebeslægtede indholdsstoffer.