Oud Save The Queen fra Atkinsons
Parfumen
Oud Save The Queen
er en mesterlig duftkreation fra mærket Atkinsons. Parfumen har …
Læs mere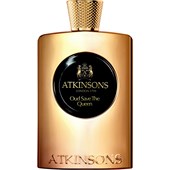 AtkinsonsOud Save The Queen Eau de Parfum Spray
BP: 1.349 kr* / 100 ml
Oud Save The Queen The Oud Collection fra Atkinsons
Parfumen Oud Save The Queen er en mesterlig duftkreation fra mærket Atkinsons. Parfumen har både blomsteragtige og orientalske træk. Duften til hende kan bæres i alle livets forhold: Uanset om det er ved jobmæssige, private eller festlige anledninger. Med denne duft kan den moderne kvinde tilegne sig en høj grad af stil og elegance. Duftkreationen fra 2014 overbeviser med sin tilpasningsevne og de stærkt feminine karaktertræk, som får mænds hjerter til at slå hurtigere.
En mesterlig duftkollektion fra The Oud Collection
Oud Save The Queen fra The Oud Collection er baseret på essenser fra bergamot, nellike og grøn te. Med jasmin og appelsinblomster skabes en blomsteragtig undertone, som repræsenterer den feminine side af kvinden. Med tonkabønne, guajaktræ og agartræ afbrydes parfumens blomsteragtige elementer og erstattes af lidenskabelige træk. Simpelthen bare et enestående mesterværk fra mærket Atkinsons!