Amber Empire fra Atkinsons
En duft
til sande legender
! Amber Empire serien fra The Legendary Collection fra Atkinsons be…
Læs mere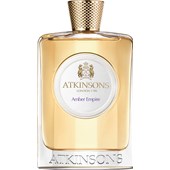 AtkinsonsAmber Empire Eau de Toilette Spray
BP: 923 kr* / 100 ml
Amber Empire The Legendary Collection fra Atkinsons
En duft til sande legender! Amber Empire serien fra The Legendary Collection fra Atkinsons begejstrer med en spændende parfume, som udkom i 2015, og som præsenterer sig perfekt som kønsuafhængig unisex-duft. Maurice Roucel er parfumør til duften. Flakonen til Amber Empire parfumen er, som vanligt fra Atkinsons, naturligvis ligeledes et absolut blikfang. Som en luksuriøs tinktur fra forgangne tider præsenterer duften sig i let transparent-gylden emballage. Hætten realiseres med en i nuancer særpræget og mønstret gylden farve - selvfølgelig er mærkelogoet fra det velrenommerede parfumehus anbragt på forsiden. Duftserien fra The Legendary Collection sætter sin lid til en interessant kontrast af søde og krydrede noter, som indsvøbes i en varm kappe af ambra.
Ambra som en bestemt og sanselig note
Som navnet ""Amber Empire"" antyder, står denne parfume fra huset Atkinsons helt i diverse ambranoters tegn, som prominent svinger med i alle kreationens etaper. Ydermere kan den erfarne snushane fornemme en brise af myrra og oolong-te. Sandeltræ leverer imidlertid en beroligende og meget naturligt virkende basis, medens vanilje sørger for en sødlig trindeling for virkelig at tiltale alle facetter i lugtesansen med denne duft. Røgelse virker som et ekstra krydret element og suppleres fremragende med myrra. Duften i The Legendary Collection er den perfekte følgesvend til en helt særlig anledning, eksempelvist til en galla eller til en romantisk middag, men kan dog også bæres af den stilfulde mand og den krævende kvinde ved andre lejligheder.